Description
Featuring auto-dimming ambient light reactive brightness, user-programmable multi-colour shift light bar, the IC-7 connects directly to all current Haltech ECUs via a CAN network. The IC-7 can also connect directly (via CAN) to most late model vehicles using the factory OBD-II port.
• Ideal replacement for individual analogue gauge clusters.
• Easy to install and configure.
• User adjustable brightness control with automatic dimming.
• User configurable channels, units and alarms.
• 14 programmable, seven colour shift light LEDs.
• Controlled via easily accessible, face-mounted control buttons.
• Configuration via Haltech IC-7 software and USB cable.
• Screen size: 7in. Case size: 217 x 122mm (8.5″ x 4.8″)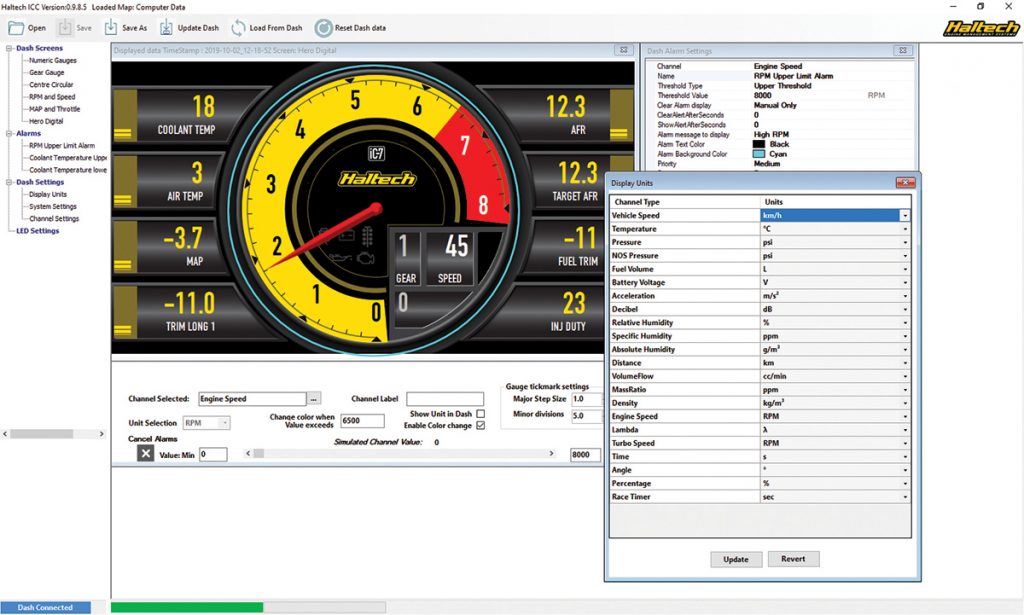 The IC-7 is configured using a brand new, intuitive software. With this software you can change various aspects of the dash behaviour including:
• Ranges of channels. Eg. the maximum RPM on a needle style tacho or a bar graph.
• Red ranges for channels. Eg. when a numeric display changes to red, red zone on a tacho.
• Display units. Eg. metric or imperial, Lambda or AFR.
• The channel to be displayed at each location on the screen.
• The connection method. Eg. Haltech CAN or OBD-II.
• Shift light RPM points and colours.
• Alarm thresholds, colour for on-screen display and shift lights, manual or auto reset methods.
[pdf-embedder url="https://www.ohm-racing.com/wp-content/uploads/2019/11/dash-ic7.pdf" title="dash ic7″]